Introducing the extraordinary Genesis GV80 Coupe Concept, a vehicle that promises to be a strong contender in the luxury car market and compete directly with the BMW X6. This concept was unveiled at a special event in New York.
Influence of the X Speedium Concept on the GV80 Coupe Concept Design
The design of the GV80 Coupe Concept is based on last year's X Speedium Coupe Concept. This four-seater vehicle combines stylistic elements from the current GV80 with those from the X Speedium, resulting in a more dynamic and attractive design. The Korean manufacturer states that this concept is a clear indication of the direction future Genesis models will take, focusing on exciting, high-performance vehicles.
Highlights Exterior Design
At the front of the GV80 Coupe Concept, you can appreciate the stylized LED headlights with advanced multiple lens matrix technology. It also features more prominent air intakes and black covers. From the side, the redesigned roofline and oscillating horizontal LED lights on the front quarter panels stand out. This vehicle sits lower than the traditional GV80.
The Rear of the Genesis GV80 Coupe Concept: A Striking Design
The rear of the GV80 Coupe Concept is undoubtedly one of its most impressive features. Here we find full-width LED lights similar to those on the X Speedium concept, a spoiler mounted on the edge of the trunk, and another subtle spoiler extending from the roof. In addition, the striking bright orange tone, called Magma, adds a bold touch to the ensemble.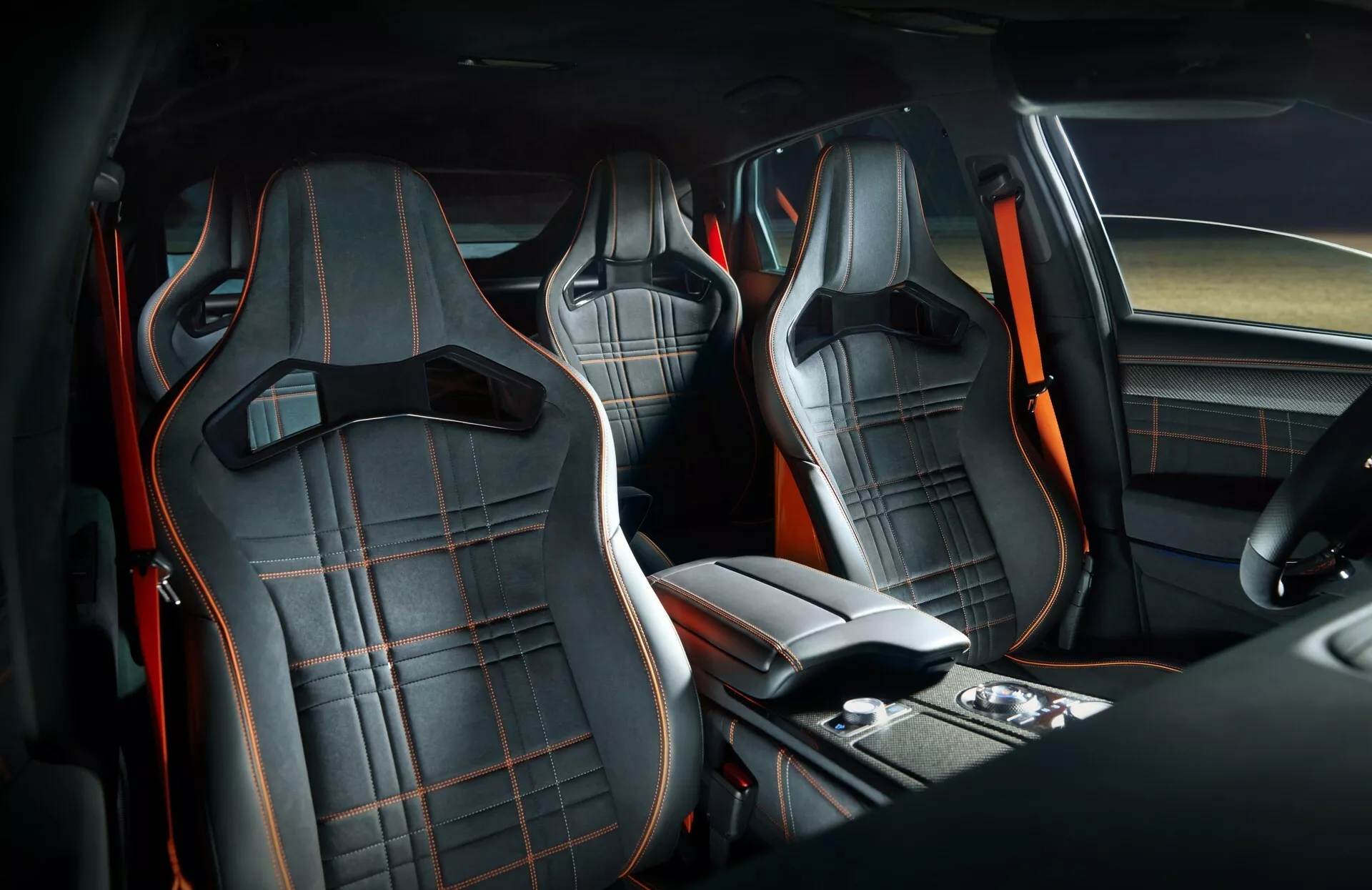 Innovations in the GV80 Coupe Interior
The cabin of the GV80 Coupe Concept features several improvements compared to the original GV80. Among them, a redesigned three-spoke steering wheel and surfaces covered with black nappa leather and suede with carbon fiber details and orange piping stand out. The SUV has been transformed into a four-seater, incorporating bucket seats with carbon fiber backs painted in the same orange tone as the exterior. A large crossbar has also been added behind the individual seats in the second row.
The Future of Genesis Vehicles and the GV80 Coupe Concept
Luc Donckerwolke, Creative Director of Genesis Group, mentioned during the concept's presentation that the Genesis brand began manufacturing luxury sedans, evolving into models such as the G70, G80, and G90. In recent years, lifestyle-oriented models have been added to the lineup, such as the GV80 and GV70 SUVs. With the GV80 Coupe Concept, Genesis aims to further expand its horizons, offering more exciting vehicles that enhance the brand's performance and dynamic attributes. The production model derived from this concept is expected to be launched next year at the New York Auto Show.
Conclusion
The Genesis GV80 Coupe Concept positions itself as a worthy rival to the BMW X6, thanks to its cutting-edge design, state-of-the-art technology, and focus on performance and excitement. This vehicle represents Genesis' commitment to developing luxury cars that exceed the expectations of their most demanding customers.